Integrity. Honesty. Quality.
When Gary and Kathy Buchholz formed GKB Cattle, these principles were the guiding force in all aspects of their business – from the customer service, to the cattle produced, to the experience for each and every cattleman and youth who entrusted them with their genetics.
GKB Cattle is more than a business. It's a passion for this duo – and for every member of the GKB team. And the passion has been alive in Gary and Kathy for a lifetime.
A lifetime in the industry.
When Gary was a young boy, he dreamed of purchasing a show heifer. But his forward-thinking dad knew there was a great life lesson to learn.
"My dad had visited with our local banker – unbeknownst to me – and they set it up for me to learn how to go to the bank, borrow some money, and purchase my first herd of 25 Angus cattle so that I could raise my first show heifer," Gary says. "My dad wanted to teach his son how to make sense of the entire operation from the start, rather than just buying one heifer or bull."
"Then, before I could show, I had to learn to fit and clip and wash for my brother to show the heifers," he continues. "My brother won belt buckles way before I did, when I won my first buckle with BBS Hope's Prime Time in 1985."
Kathy is a fourth-generation west-Texas cattle producer.
"I grew up working cattle with my dad, and my mother was actively involved on the ranch, as well," Kathy says. "My dad showed pen bulls and fed out bulls for the regional Hereford sales all over Texas, ever since he and my mother were married in 1954."
When Kathy was in 4th or 5th grade, she wanted to teach a special black baldie heifer to lead to the house. That's when her dad suggested they get a purebred Hereford heifer from the herd to work with.
"We brought two or three heifers up, and I got the smallest and gentlest one – Junior – halter broke, and I learned how to work hair and the basics of feeding," Kathy says. "I had been showing rabbits through 4-H, but I was ready to show cattle. So in 6th grade, I showed my heifer, Missy, for the first time. I stood 6th or 7th out of 10. But I gained experience; I knew every hair on her body; and I was super confident that I could do it."
Within a couple of years, Kathy and her family were attending the Texas Junior Hereford Field Days; helping her develop her livestock judging skills; and attending the Texas Junior Hereford Association and National Junior Hereford Show. Eventually, Kathy would serve as a voting delegate at the American Junior Hereford Association National Convention and begin presenting at national events.
Her mother was also actively involved in the American Hereford Auxiliary, where she served as president, and was also the first National Intercollegiate Rodeo All-Around Cowgirl Champion in 1951.
A teacher from the start.
Gary has always had a heart for helping others – especially youth. And this began long before he was an adult.
When Gary was only a sophomore in high school, he took his first group of students to the Houston Livestock Show and Rodeo, as their ag teacher wasn't up for the trip.
"I knew at that moment that I wanted to be an ag teacher and be there for the students who need a strong teacher in their lives," Gary says.
He attended East Texas State University at Commerce, Texas, where he majored in agricultural education. Upon graduation, he began teaching at Duncanville, Texas, where he remained for 11 years before beginning Buchholz Brothers Shorthorns with his brother, Chuck, in 1984.
Kathy graduated from Texas A&M University in 1981 with a bachelor's degree in animal science and then earned her master's degree in land economics and real estate two years later.
"I went back to work for the family ranch and specialized in appraisal work and estate planning until Gary and were married," Kathy says.
It should come as no surprise, Gary and Kathy met through cattle.
Gary was stalled with his ag students just down from Kathy's family at the 1974 Ft Worth Stock Show. Gary and Kathy's dad began visiting, and Gary eventually began purchasing steers from Kathy's family for his students to show.
"It was all business at first," Kathy says. "Once I started college, I would stop by the barn to check on the cattle he had bought at our ranch. And as I would leave, he would begin to say, 'call me if you have any trouble' or 'let me know when you get where you're going.' That's when he started becoming more of a special friend than just a customer.
"But truly – everyone knows I married him for his red dually," she adds with a laugh.
The birth of GKB Cattle.
Although Gary loved teaching, he was ready for a new steppingstone in his life.
In 1987, the year Gary and Kathy became husband and wife, Shorthorns were the lead breed for the couple. They utilized extensive AI and ET, and their primary promotion tool was exhibiting their herd at state and national shows.
And one bull from one of his foundation females, BBS Hope Prime Time, helped put Buchholz Brothers Shorthorns on the map.
"He was a full Irish shorthorn that had style and mass, muscle and bone," Gary says. "As a calf, he was reserve at Fort Worth and grand champion at Louisville."
They continued to expand the herd until 1992, when they dispersed the herd and all embryos, and moved to ranch with Kathy's family in west Texas.
"We moved to the ranch in 1993, and my mom passed away that September," Kathy says. "We remained active in all phases of my family's registered and commercial Hereford operation for five years – from breeding to feeding and culling, to showing and preparing for her dad's annual club calf sale."
And in March of 1998, Gary and Kathy decided to begin their own operation – and thus, GKB Cattle was born.
At the time, GKB Cattle was begun with a primary focus on Herefords.
"We found out that Herefords were more of an all-around breed," Gary says. "They're excellent commercial bulls, commercial heifers and show heifers. As well, they're adaptable to many climates and possess calving ease and fleshing ability – we knew we were going with Herefords."
Knowing their priorities from the start.
From the start, Gary and Kathy have placed a top priority on producing useful, real-world genetics that will be successful for junior show heifers, as well as commercial operations. And above all? Weaving integrity throughout the entire process.
Regardless of the breed and growth of the operation, those main goals remain.
Today, GKB Cattle has grown to include Hereford, Brangus, Red Angus & Brahman Cattle.
Brangus were added to the GKB herd to meet customer needs, as many Hereford customers in the south also utilize Brangus genetics.
"There is a strong demand in Texas for Super baldies – a Brangus/Hereford cross with a touch of ear," Gary says. "Brangus really compliments the areas in the south for their heart tolerance."
The GKB Brangus herd was developed nearly 20 years ago, as Gary helped a neighbor who wanted to begin a Red Brangus herd for his children to show. Since that time, Gary helped that neighbor select genetics and build a strong herd. And when he was ready to disperse, Gary and Kathy felt confident in purchasing the herd, as they knew the genetic base well.
"We had helped this family for years, and I also helped students show and fit Brangus back in the '80s," Gary says. "We knew Brangus cattle, and we knew Brangus people. When we began going back to Brangus events, it was like a reunion."
Regardless of the breed, it all goes back to integrity.
"Our primary goal is, and always will be, the integrity of the animals we produce," Gary says. "We want our cattle to be known as sound and functional. We want to produce Hereford and Brangus bulls that can go out and serve the commercial industry. We know the beef industry does not revolve around show cattle – there's a real world out there. And we want to meet the needs of the real world."
Teamwork makes the dream work.
Gary and Kathy believe their success can be attributed to a genuine love for quality cattle, and personal and professional strengths that complement each other.
"Gary is the husband, and he takes the lead, as the husband should be the head of the family," Kathy says. "But we discuss everything. And we see cattle very similarly. He looks at the big picture, and I focus on the details of the moment."
Kathy makes several of the ET and AI decisions. And Gary takes the lead on showing customers around the ranch, as well as the farming.
"We each have our departments – but we discuss everything," Kathy says. "We are simply blessed that we had a system early on, and it worked well. We talk about it, and then we get the job done. We both get to do what we love to do, and we get to do it with our best friend and spouse."
Since 2011, GKB Cattle has had the opportunity to expand – both in land, cattle, and in the GKB team.
"We knew we needed to increase our cow numbers to have a good representation of bull calves for our commercial bull buyers," Gary says.
And as land and cattle expanded, so did the GKB staff. Today, GKB Cattle consists of Jay Creamer, Show Cattle Manager & Commercial Bull Sales; Matt Eskew, Ag. Operations Manager; Andrew Conley, Brangus Cattle Manager; Stephen Trichel, Windy Hills Ranch Manager(Brahman & F1 Cattle).
Devotion to the land.
Gary and Kathy have always dreamed of owning a cattle operation that is successful and enjoyable. And in order to make that work, they also knew they must take care of the land.
"We both picked up many land-stewardship habits working with Kathy's dad in west Texas," Gary says. "We are in an area with highly improved pastures, not native grasses. Therefore, we must be intentional with no overgrazing; providing fertilizer and aeration; and providing adjoining winter grazing to every pasture. The bottom line? If we don't take care of the pastures, they don't take care of the cattle operation."
This dedication to the cattle and land, as well as a quality team, has led to great success in many areas.
GKB accomplishments.
In 2010, Gary and Kathy experienced one of their greatest honors with Gary judging the National Hereford Show in Denver, and Kathy serving as his associate.
"Being a Hereford breeder, that was awesome," Kathy says. "When it comes to cattle, we see them the same way more often than not. It's another way we are compatible. It was truly an honor to serve as judges, as husband and wife."
Another highlight for GKB and its genetics occurred at the 2015 National Western Stock Show, when CHAC Mason 2214, owned with Prairie Rose Cattle Co. and Eleanor James, was named Supreme Champion Hereford and National Champion Polled Hereford Bull; and GKB 88X Laramie B293, owned with Brumley Farms, was named National Champion Hereford Bull.
"What made that so special was that those cattle came through junior exhibitors' breeding programs," Kathy says. "Mason was out of Jonathon Chachere's first show heifer. And Laramie's grandmother was Erick Schmidt's first show heifer. Both of these young people had a positive experience with GKB and improved themselves, and these positive things have carried with them into adulthood."
GKB Cattle is proud of its success in the show ring. But truly, the accomplishments are more than awards. Gary and Kathy see them as acknowledgement of their breeding program at home.
"We believe that showing cattle allows our potential customers to see our cattle in person," Kathy says. "It's not all about the blue ribbon. When the day is done, it's about making a good first impression – it's about showcasing our breeding program and cow families not just nationally, but with our international markets, as well."
Leaving a legacy.
Gary and Kathy's greatest joys in life come from seeing the youth of the cattle industry thrive and grow – wherever their careers may take them.
"We hope, as our legacy, we are known for helping young people and giving them the opportunity to move forward," Gary says. "The youth are our future, and we enjoy helping them."
When a youth begins a breeding program and finds success in that realm, Gary says, the satisfaction is multiplied.
"When they have their own program and find their own success, whatever that may be to him or her, it's incredible," Gary says. "Maybe it's making it to finals in showmanship. Maybe it's, after several shows, placing in the top three in class. Or maybe it's grabbing hold of what it's like to get one ready to show – getting that heifer fed and full. We love to see it in their eyes when they know they've done a good job, too."
But it's not just about the success of the juniors. It's about the success of every customer – regardless of goals and scope and size.
Gary and Kathy also take great pride in showing the GKB operation to visitors from across the country and around the world.
"We enjoy taking customers and visitors around GKB – it feels good that other breeders want to see our cattle in the pastures, and when they want to see how we manage the pastures and the land," Kathy says.
Integrity. Honesty. Quality.
When it's all said and done, Gary and Kathy hope to be remembered for their eye for cattle, for their integrity, and for GKB leaving their mark in the Hereford history books. Without a doubt, that legacy is already in the making.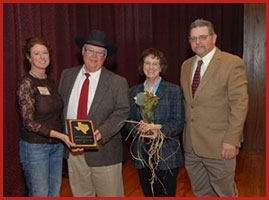 2012 BOOSTER OF THE YEAR!
Gary and Kathy were presented with the 2012 Booster of the Year Award by the Texas Hereford Association at the 2012 annual meeting in Fort Worth.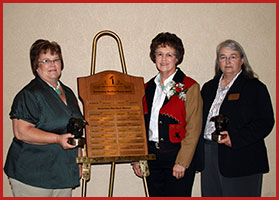 2008 AMERICAN HEREFORD WOMAN OF THE YEAR!
Congratulations to Kathy Buchholz for earning this prestigious title during the AHW Annual Meeting on November 1, 2008 in Kansas City. LEARN MORE>>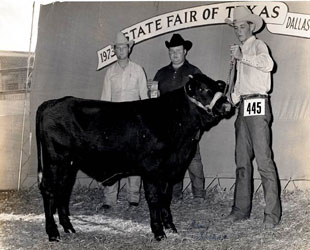 1st Place Santa Gertrudis Heifer
1973 State Fair of Texas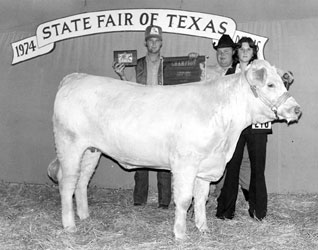 Champion Charolais Heifer
1974 State Fair of Texas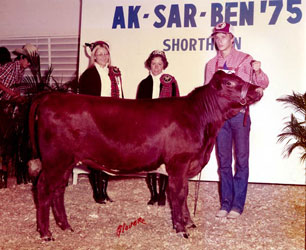 National Champion Shorthorn Heifer
1975 Ak-Sar-Ben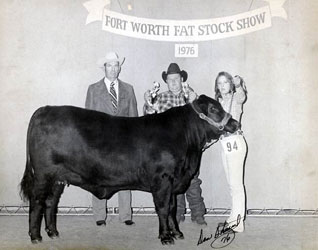 Champion Brangus Heifer
1976 Fort Worth Stock Show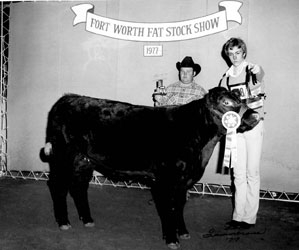 Reserve Champion Shorthorn Heifer
1977 Fort Worth Stock Show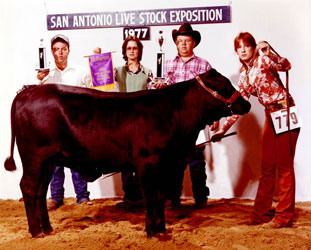 Champion Brangus Heifer
1977 San Antonio Livestock Exposition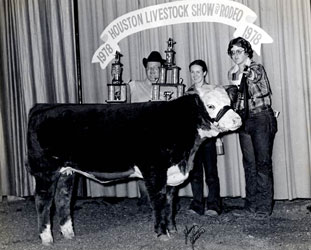 Class Winner and Showmanship
1978 Houston Livestock Show
Reserve Champion Hereford Heifer
Phoenix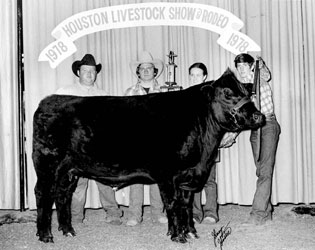 Champion Angus Heifer
1978 Houston, Phoenix, and Reno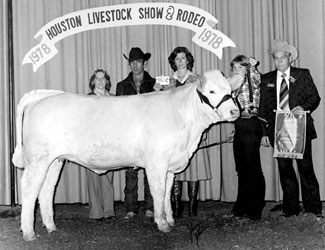 Champion Charolais Heifer
1978 Fort Worth Stock Show, San Antonio Livestock Exposition, and Houston Livestock Show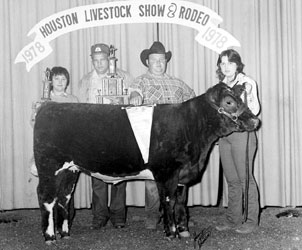 Reserve Champion Shorthorn Heifer
1978 Houston Livestock Show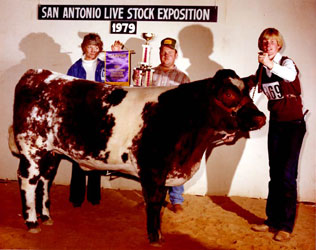 Champion Shorthorn Heifer
1979 San Antonio Livestock Exposition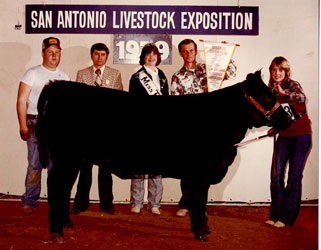 Reserve Champion Angus Heifer
1979 San Antonio Livestock Exposition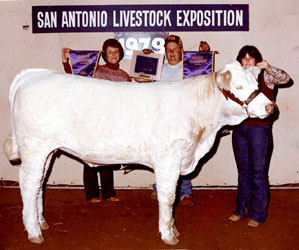 Champion Charolais Heifer
1979 San Antonio Livestock Exposition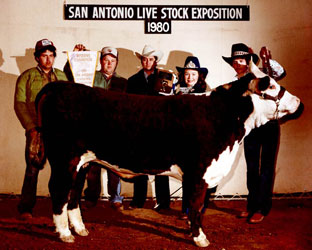 Reserve Champion Hereford Heifer
1980 San Antonio Livestock Exposition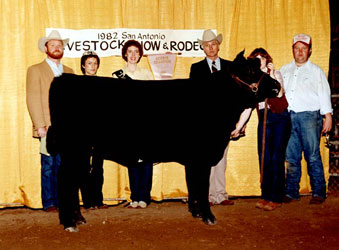 Reserve Champion Angus Heifer
1982 San Antonio Livestock Exposition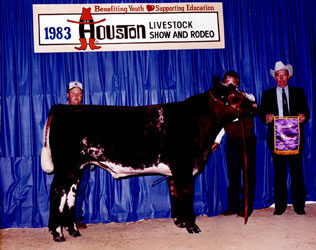 Champion Shorthorn Steer
1983 Houston Livestock Show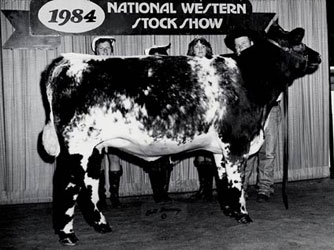 Reserve Senior Champion Shorthorn Female
1984 National Western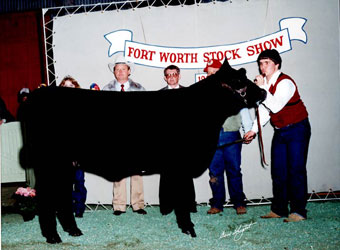 1984 Fort Worth Stock Show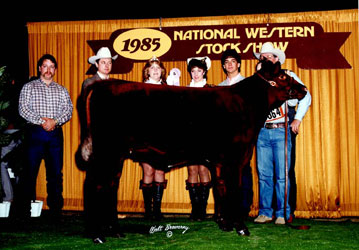 Reserve Calf Champion Shorthorn Female
1985 National Western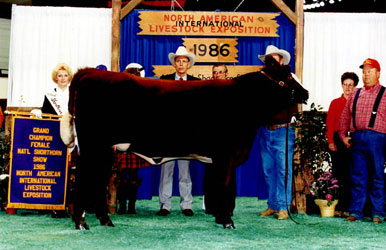 Champion Shorthorn Female
1986 North American Livestock Expo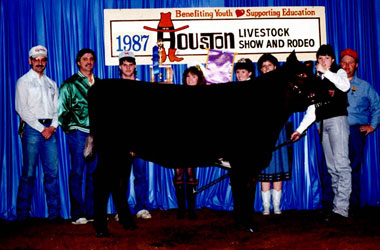 Champion Shorthorn Female
1987 Fort Worth Stock Show, San Antonio Livestock Exposition and Houston Livestock Show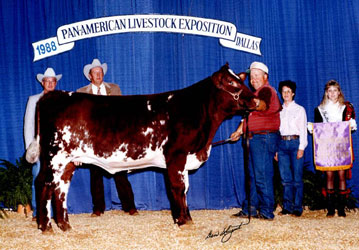 Grand Champion
1988 State Fair of Texas
Class Winner
1988 National Western
Division Winner
Fort Worth Stock Show and Reno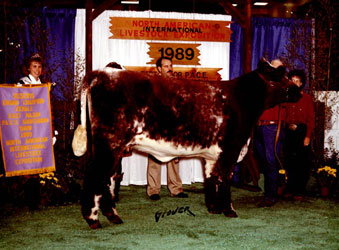 Reserve Champion Shorthorn Heifer
1989 North American Livestock Expo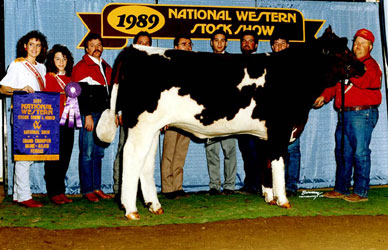 Champion Maine Anjou Heifer
1989 National Western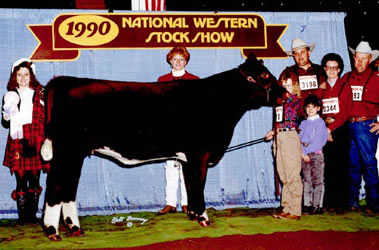 Reserve Champion Shorthorn Heifer
1990 National Western
Calf Champion Shorthorn Heifer
Wisconsin PACE Show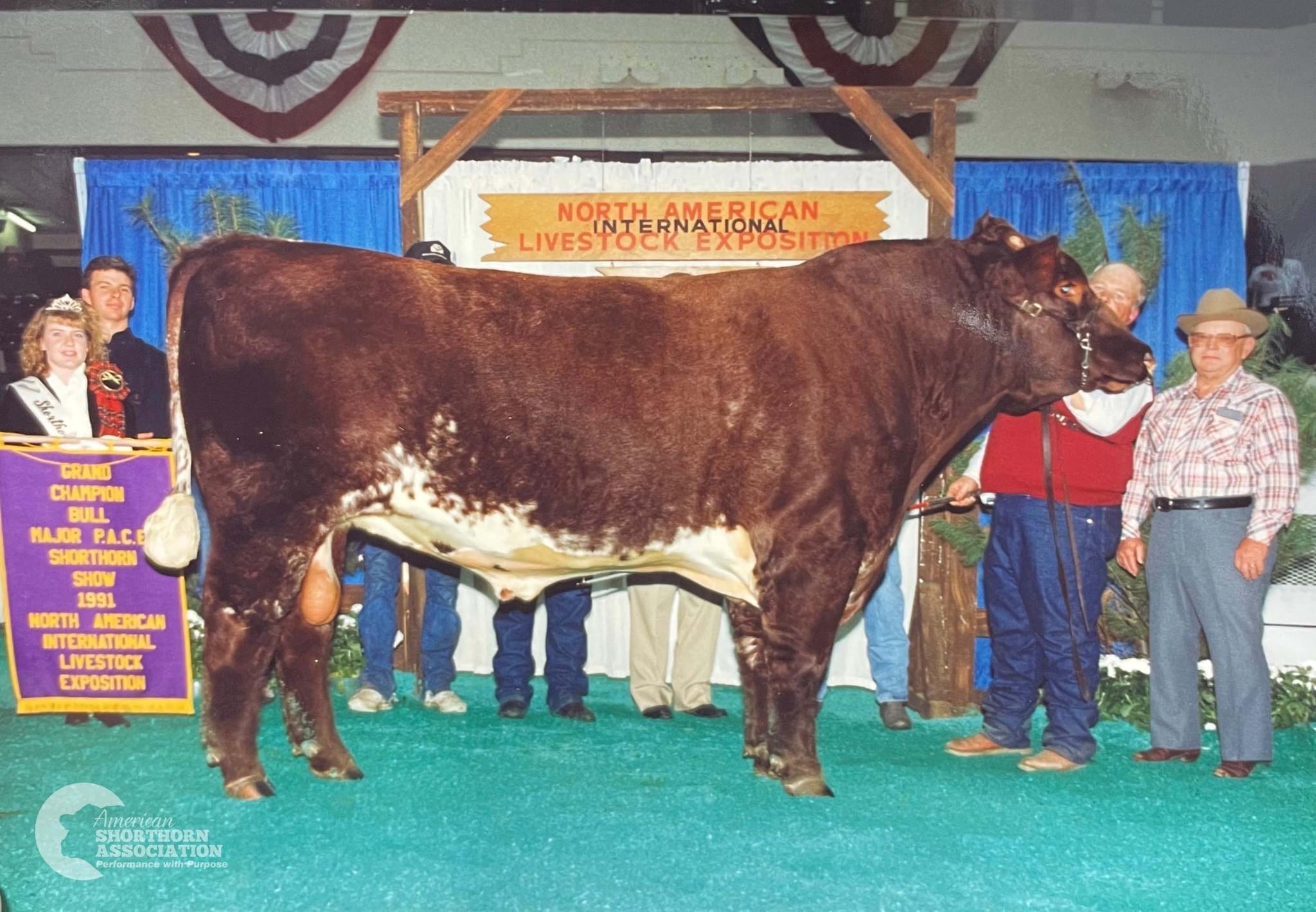 Grand Champion Bull
RPS Grand Slam
MAJOR P.A.C.E Shorthorn Show
1991 North American Livestock Expo
Grand Slam also won Denver & Fort Worth in 1991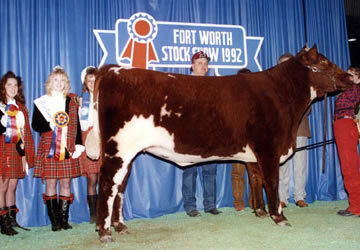 Champion Shorthorn Heifer
1992 Fort Worth Stock Show, San Antonio Livestock Exposition and North American Livestock Expo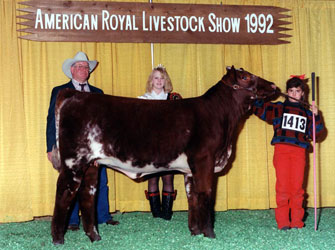 Reserve Champion Shorthorn Heifer
1992 American Royal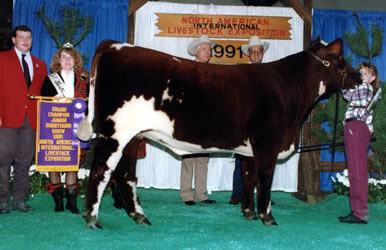 Champion Shorthorn Heifer
1991 North American Livestock Expo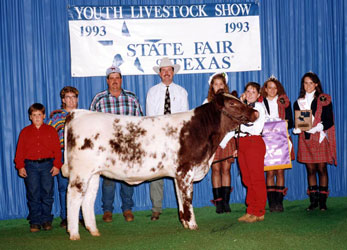 Champion Shorthorn Heifer
1993 State Fair of Texas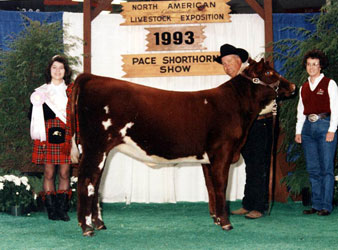 Reserve Calf Champion Shorthorn Heifer
1993 North American Livestock Expo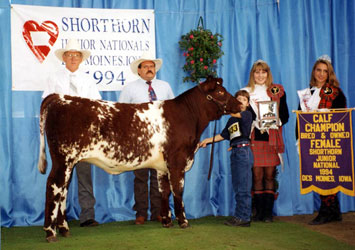 Calf Champion Bred and Owned Female
1994 Shorthorn Junior Nationals
Reserve Calf Champion Female
1994 Shorthorn Junior Nationals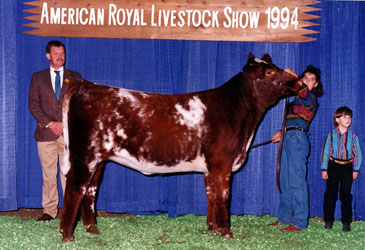 Champion Female
1994 American Royal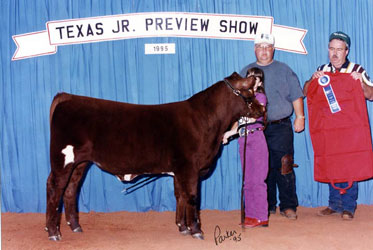 Reserve Champion Female
1995 TJSA Preview Show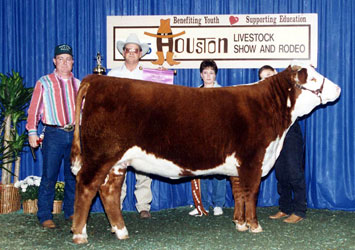 Champion Hereford Female
1995 Houston Livestock Show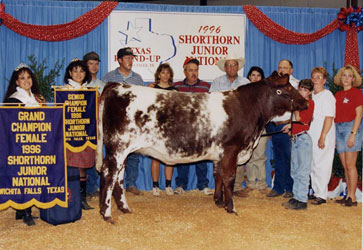 Champion Shorthorn Female
1996 Shorthorn Junior Nationals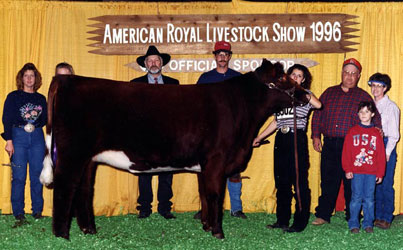 Champion Shorthorn Female
1996 American Royal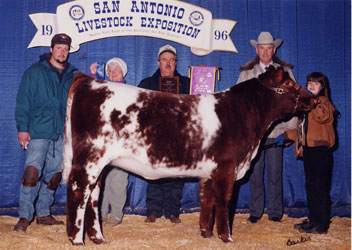 Champion Shorthorn Female
1996 San Antonio Livestock Exposition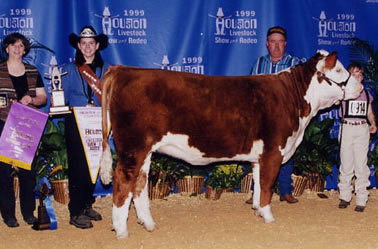 Reserve Champion Hereford Female
1999 Houston Livestock Show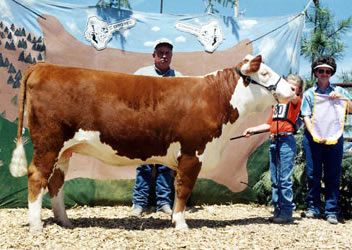 Reserve Senior Champion Hereford Female
2000 National Hereford Expo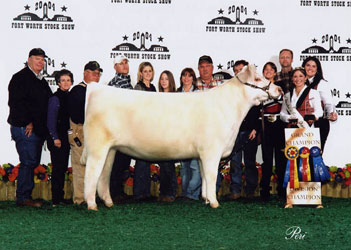 American Royal Champion Shorthorn Female
2004 Fort Worth Stock Show, San Antonio Livestock Exposition and Houston Livestock Show
Reserve Calf Champion Division
2005 Houston Livestock Show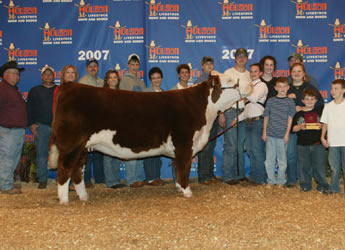 Triple Crown Winner
2007 Fort Worth Stock Show, San Antonio Livestock Exposition and Houston Livestock Show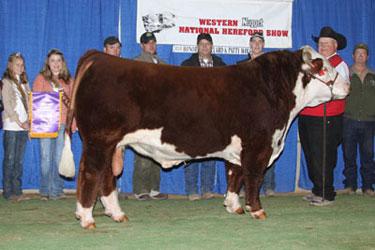 Reserve Grand Champion Bull
2010 Western Nugget National Show
Reserve Grand Champion Female
2012 National Hereford Show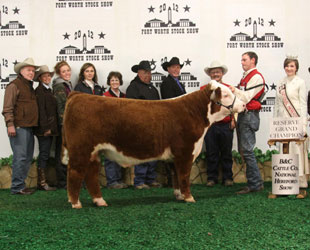 Reserve Grand Champion Bull
2012 National Southwestern Hereford Show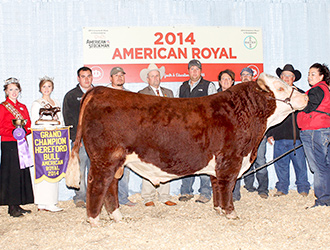 Grand Champion Bull
2014 American Royal
Grand Champion Horned and Polled Hereford Bulls
2015 National Western Stock Show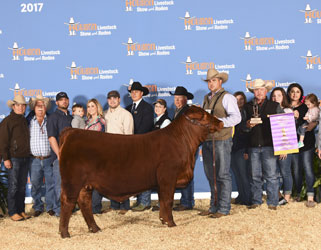 International Grand Champion Red Brangus Female
2017 Houston Livestock Show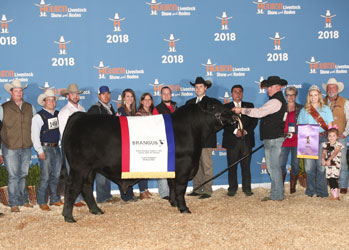 International Grand Champion Black Brangus Bull
2018 World Brangus Congress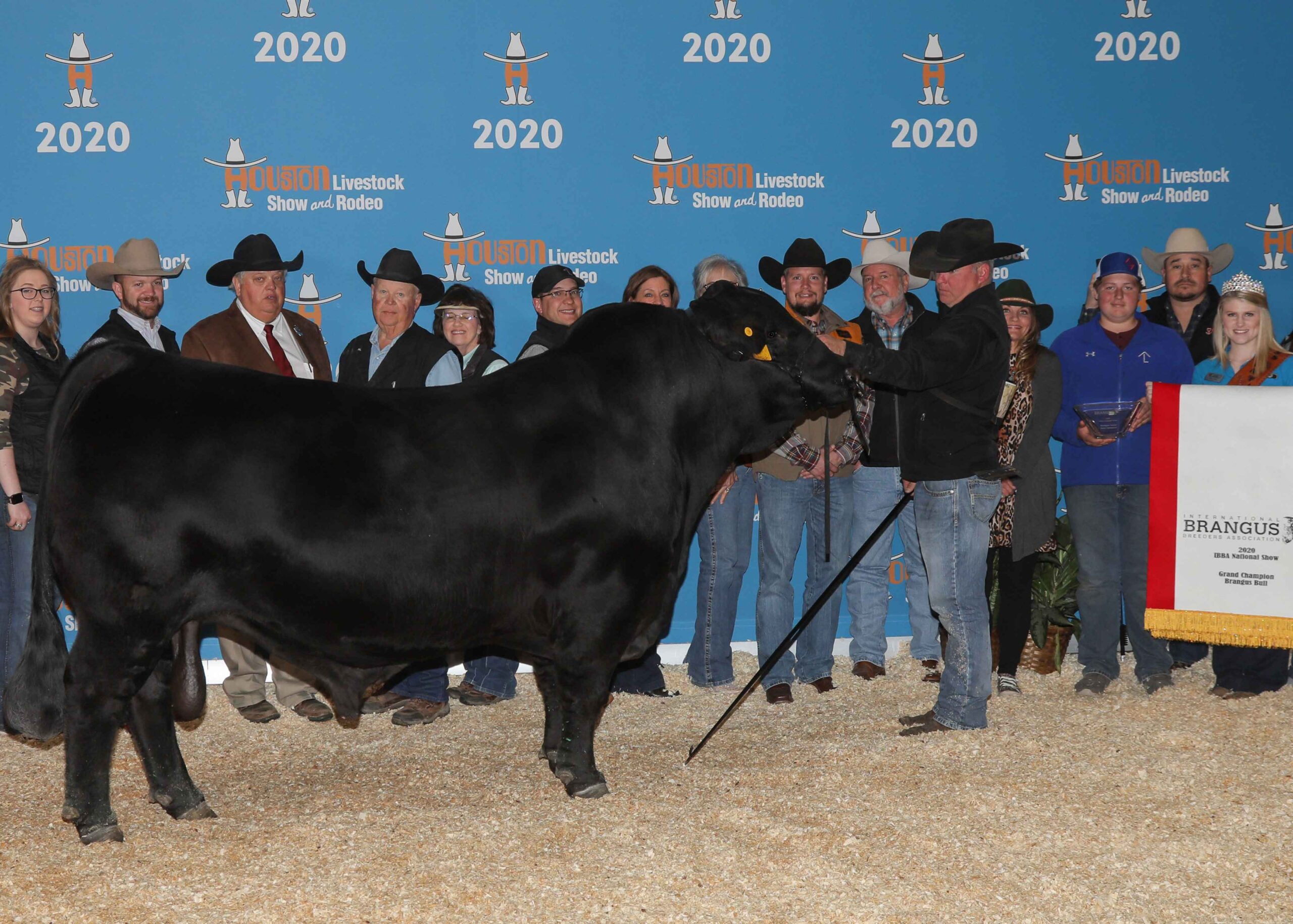 International Grand Champion Black Brangus Bull
2020 Houston Livestock Show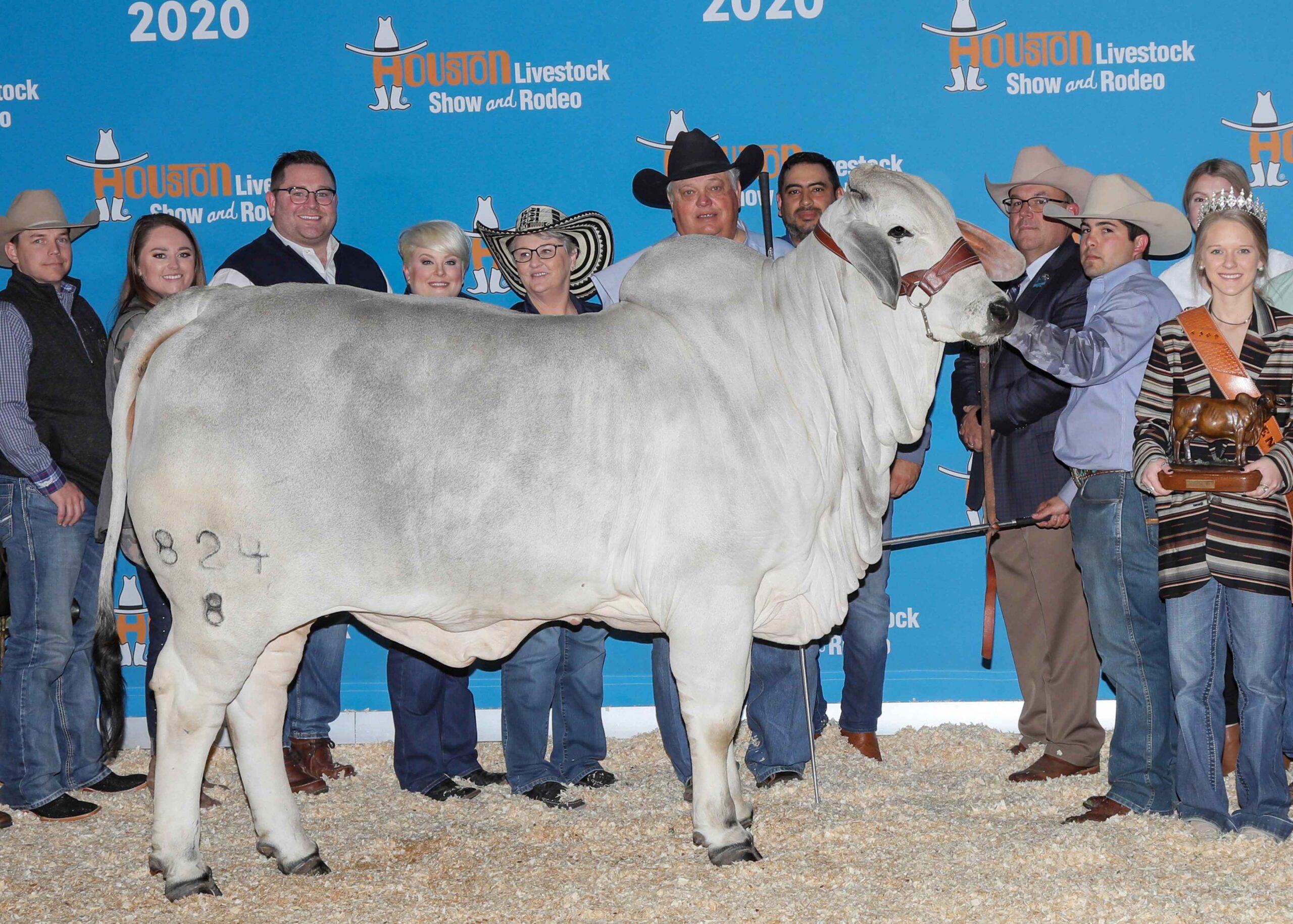 International Grand Champion Grey Brahman Female
2020 Houston Livestock Show
Grand Champion Hereford Pen of Bulls
2021 Cattlemen's Congress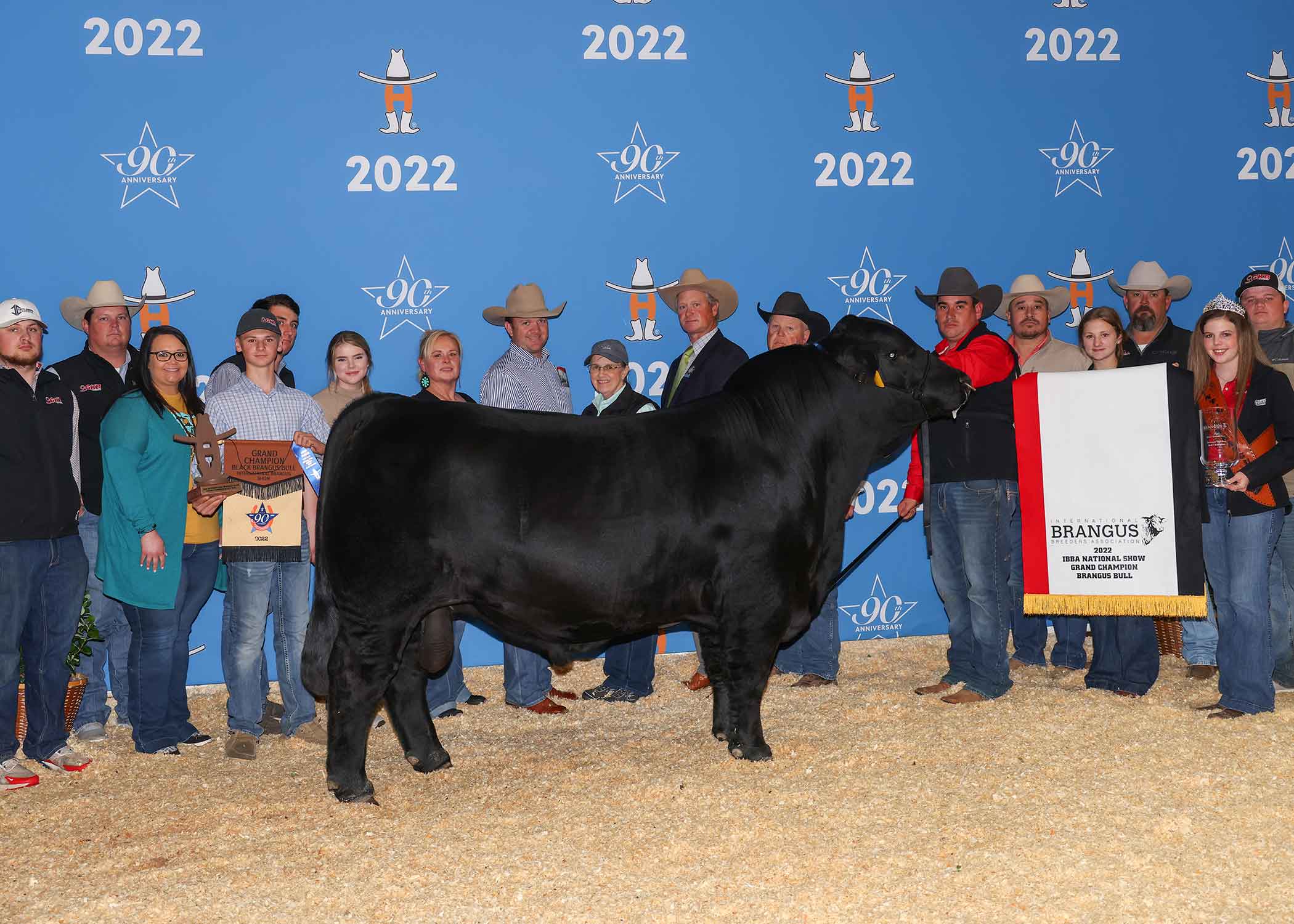 International Grand Champion Black Brangus Bull
2022 Houston Livestock Show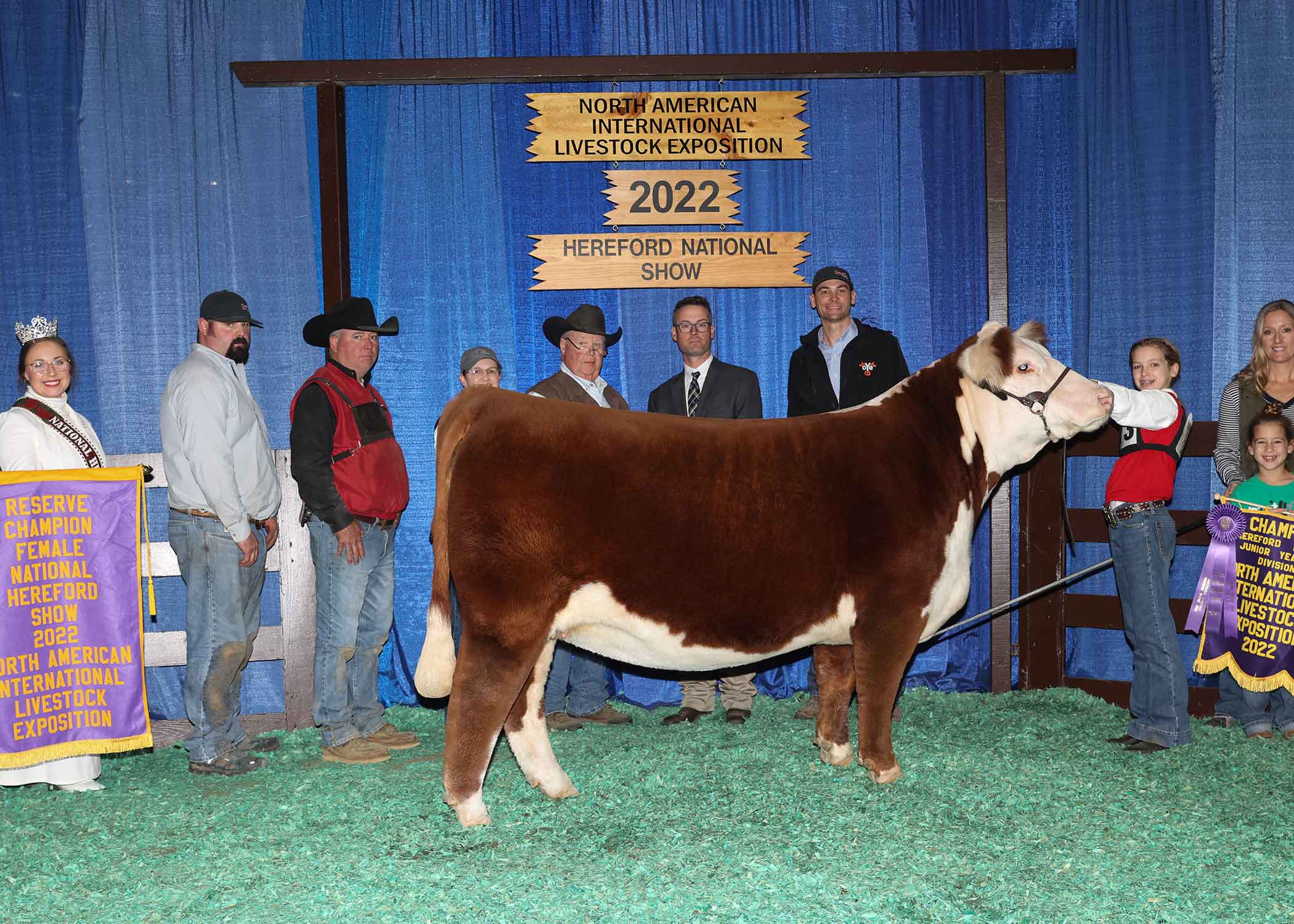 Reserve Grand Champion Hereford Female
2022 North American Livestock Expo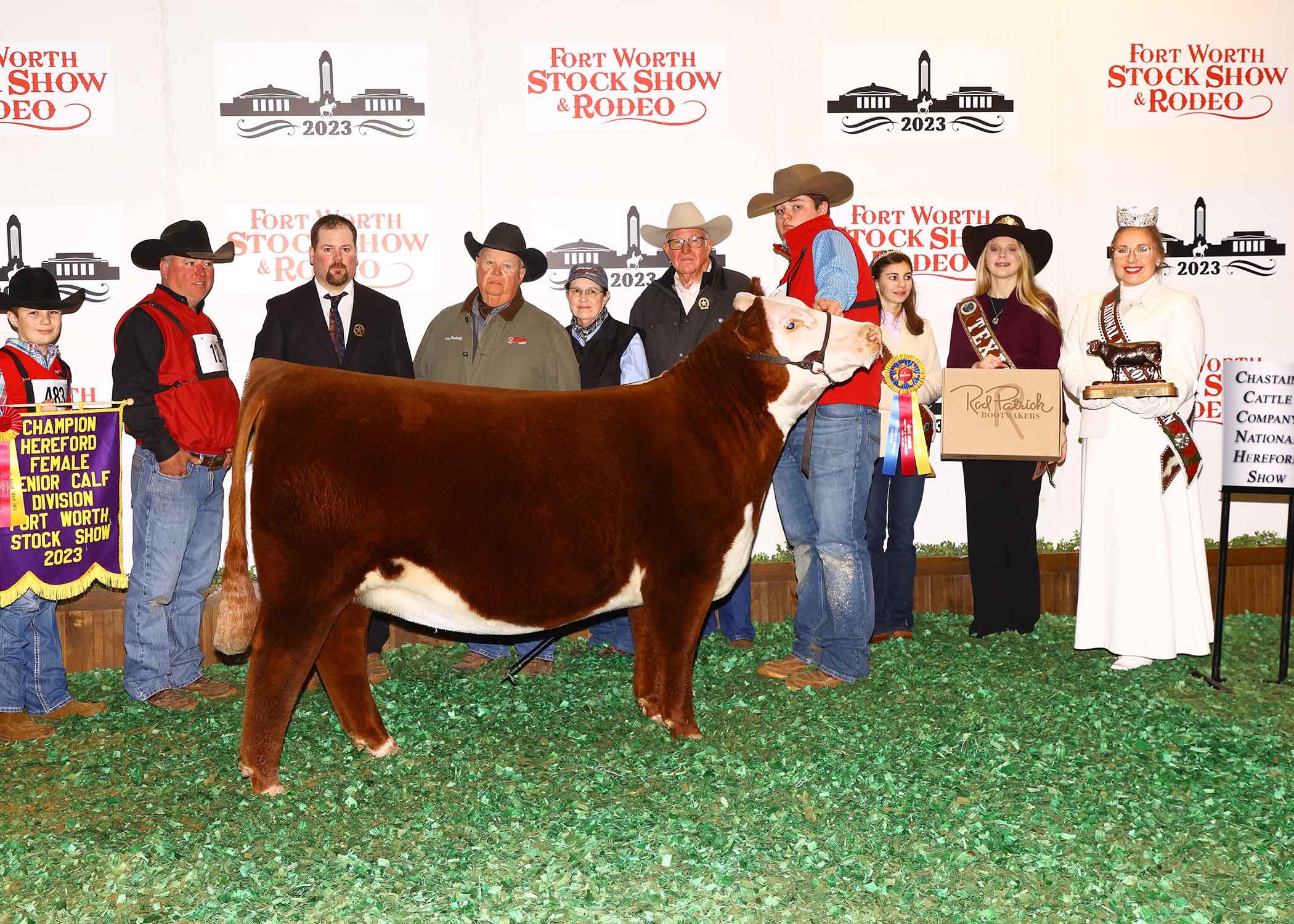 Grand Champion Horned Hereford Female
2023 Fort Worth Stock Show